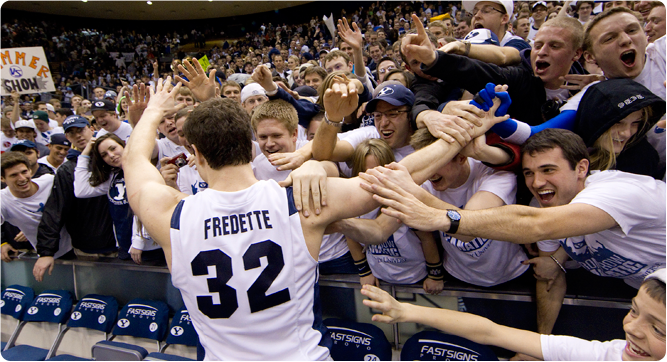 The Fredette Effect
A stellar NCAA basketball or football season brings a flood of prospective students, says new BYU research—and it holds true at BYU. Watch BYU's new class of students, who applied post-Jimmer, create a giant human Y.

The Second Century

President Spencer W. Kimball's address at BYU's 1975 centennial helped set the university's course. Read the

speech

and hear his voice in a campus

time lapse

.


100 Candles

Happy birthday, Maeser Building! This Homecoming, BYU throws a party to celebrate the Maeser's 100th— and to honor all that the building represents.


Of Calories and Capitalism

Diet and exercise affect employee productivity, says new BYU research, which suggests that expanding waistlines may shrink companies' bottom lines.


Cougars—Up Close

Catch the sights and sounds of BYU's home opener, where LaVell Edwards Stadium debuted two new LED video walls. Replays are now better than ever.




Pseudo-Democrat's Dilemma

See Yale political science professor Susan Hyde explore why election monitoring became an international norm.

Best Parenting Practices

BYU published an analysis on parenting children with developmental disabilities in the no. 1 journal on special education.

Teaching Children of Leprosy

After helping organize and direct a school for kids affected by leprosy, a McKay School professor shares his experiences.
School's in for Summer

Full-time teachers working on a master's in educational leadership at BYU can now fit in their internships during the summer.

Partners in Education

How does the McKay School serve the Provo community? Read about BYU's public school partnership.
Class with a History

American Heritage professors have danced in tutus and eaten goldfish to teach the nation's founding.


Dad's Brain > Dad's Money

Rich dads often have sons with high incomes, but new research shows it's more than Dad's money that helps.

How Strong Is Your Marriage

Through questionnaire analysis, BYU researchers are rooting out the secrets to strong relationships—and they can help you measure the strength of yours.




2012–13 Arts Highlights

Check out the lineup for the 2012–13 BYU performing arts season in a brochure now available online.


eviDance Sneak Peek

BYU's annual World of Dance tradition has a new look—and a new name. Watch a sneak peak of the new show.

University Honors

See why BYU honored theatre and media arts professor Megan Jones at its Annual University Conference.


Prof with Promise

Music professor Jeremy Grimshaw received a Young Scholar Award at BYU's Annual University Conference.

Exploring Dickinson's Roots

Linguistics professor Cynthia Hallen studied Emily Dickinson's ancestral home of Shaftesbury, Great Britain.


Alcuin Fellow

Kristin Matthews, professor of English and director of the American Studies program, was named an Alcuin Fellow at BYU's Annual University Conference.

Setting the Chairs

Three departments have new leaders. Find out who now chairs biology, plant and wildlife sciences, and physiology and developmental biology.




Going Forth to Serve

The college honored 83 students at graduation in August. Read some words of advice given to the new grads.


A Career of Giving

Beth Cole, the recently retired dean of the College of Nursing, leaves behind a legacy of service.

Ravert Takes the Reins

Patricia Ravert, formerly the associate dean of the undergraduate nursing program, is now dean of the college.


Weathering the Storm

See what nursing students learned in Ghana as they faced poverty, limited resources, and tropical storms.

Stumping the Stylist

In BYU's latest animated film, which has already won awards, a famed hairdresser faces his biggest test: a bald client.


Deciphering Ancient Aramaic

PhD student Paul Felt is using computer science to study texts from the time of Christ in an ancient dialect of Aramaic.

Building for Better Lives

Watch students in BYU's Global Engineering Outreach Club build homes for Navajo families in southern Utah.

Ultimate Origami

The National Science Foundation awarded BYU a grant to translate origami designs into engineered systems.

University Honors

BYU honored eight engineering faculty members at the 2012 Annual University Conference. Find out who was recognized.



Unconstitutional Treaties

Should the president have the authority to make treaties? No, says Professor David Moore. Read more on his research.

Welcome, Class of 2015

The J. Reuben Clark Law School welcomed a new crop of first-year students. Read about the new class.


Adjunct Excellence

Adjunct faculty member Jane Wise received an award at BYU's Annual University Conference.

The Highly Effective Person

Read Marriott Magazine's feature on the late Stephen Covey, a man who enabled greatness in people and organizations.


Eavesdropping in the Tanner

From Blake Griffin to steroid networking to a dog named Audit, listen in on Tanner Building buzz via Marriott Magazine.

Business Is Good

See the start-ups BYU students dreamed up that are winning national business contests—and $50,000 prizes.


Intentional Recreation

Watch rec management chair Patti Freeman's recent forum on the things that matter most.

BYU Today is sent monthly to alumni and friends of Brigham Young University by the BYU Alumni Association.
Send comments and questions to byutoday@byu.edu.